As IT leaders expand their focus from data center ROI, cost savings, and performance to driving innovation and elevating the customer experience, Managed Services have never been more important.  offers a flexible subscription model to proactively monitor, manage, and maximize the critical technologies that run your business—from cloud to security, networking, managed SD-WAN, collaboration, and more. You'll consolidate service providers to reduce complexity and realize a seamless technology experience.
Move from Managing IT to Managing Outcomes
Our Managed Services practice is built on a unique synergy of people, process, and tools. We deliver 24x7x365 support, a rigorous ITIL-based framework that is independently certified and audited, and customized tools and dashboards that provide greater visibility and intelligence to drive business decisions. Ready to connect the dots from your current state to achieve the future state your business needs?
Flexible Engagement Models—Geared Specifically to Your Business
We offer customized business process out-tasking with on-site support options—scalable to grow as your business needs evolve. We can integrate with your existing processes and architecture in a non-disruptive way to provide around the clock support for a range of IT lifecycle services. You can also engage with soflinix for a broad range of fully-managed "as a Service" offerings with flexible consumption models and comprehensive project management.
 Soflinix Managed Services Centers (MSC) hold multiple differentiating compliance attestations, including:
Payment Card Industry Data Security Standard (PCI DSS) as a Level 1 Service Provider of network monitoring and management services
SSAE 18 SOC 1 Type 2 for all soflinix MSC Services & Service Desk
SSAE 18 SOC 2 Type 2 and HIPAA for our cloud-based managed services
MSC engineers complete an annual CJIS Level 4 Security Awareness Certification & annual HIPAA training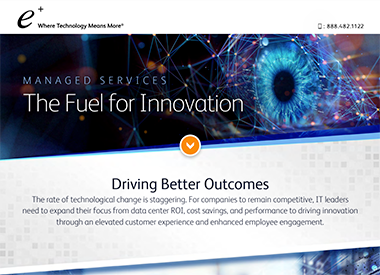 Managed Services allow you to outsource the day-to-day operations of your IT infrastructure, shifting your focus from keeping the lights on to driving your business forward. See how soflinix can help you connect the dots from your current state to achieve the future state your business needs—and fuel your IT innovation.

Managed Services for Infrastructure and Cloud
Benefit from 24x7x365 proactive support across your infrastructure as well as public, hybrid, and private cloud environments, including Enhanced Maintenance Support, Executive Services, and Cloud Hosted Services.
Enhanced Maintenance Support
Simplify your support experience with single-call support for multi-vendor environments and U.S.-based 24x7x365 customer care for faster time to resolution, greater visibility, and enhanced operational efficiency.
Managed Security Services
Leverage a uniquely prescriptive approach to managed security with as-a-Service offerings like vulnerability management. Extend the reach of your security team through SOC as a Service for traditional and cloud environments as well as endpoint and anti-virus solutions.

Take advantage of an ITIL-compliant framework and a central point of contact to troubleshoot, triage, and resolve your IT service issues with efficacy and speed.

Ensure data integrity across your install base and gain real-time visibility to manage, measure, and govern your IT assets.
Carrier Expense Management
Keep track of multiple carriers, contracts, and services across the globe through our fully-managed service that delivers global contract visibility, expense management, AP integration, project management, and convenient bill pay.
Soflinix Complimentary Services
We offer a full range of services, from Managed Power Protection to Managed Out Tasking, Connectivity Services, Colocation Services, Managed Cloud, and UCaaS.